ALIA EL-BERMANI
"The high-quality products and information that Natural Pigments provide are invaluable to me as an artist. The forums and articles posted on the site are an incredible, free resource."
ABOUT THE ARTIST
Internationally recognized American figurative painter Alia El-Bermani received her training from Laguna College of Art and Design in Laguna Beach CA, where she also taught for several years upon graduating in 2000. El-Bermani's work has been featured in numerous solo exhibitions across the country with her paintings and drawings also showcased in several museum exhibitions. In 2015 her painting Paper Wishes was acquired by the Museu Europeu d'Art Modern (MEAM), in Barcelona, Spain for their permanent collection. As a seasoned instructor who has taught at both the college and workshop level, El-Bermani opened her own teaching studio, Alia Fine Art Studios in Raleigh, NC in January 2017. There she currently teaches ongoing classes as well as hosts award winning visiting artist workshops. She has been honored as a guest lecturer at several universities including East Carolina University, Meredith College, Laguna College of Art and Design and Texas A&M University as well as for the 2016 Symposium for Women in the Arts. Several articles and interviews have been featured in such periodicals as American Art Collector, Art Week, The Independent, the Savvy Painter Podcast and American Arts Quarterly.
ALIA EL-BERMANI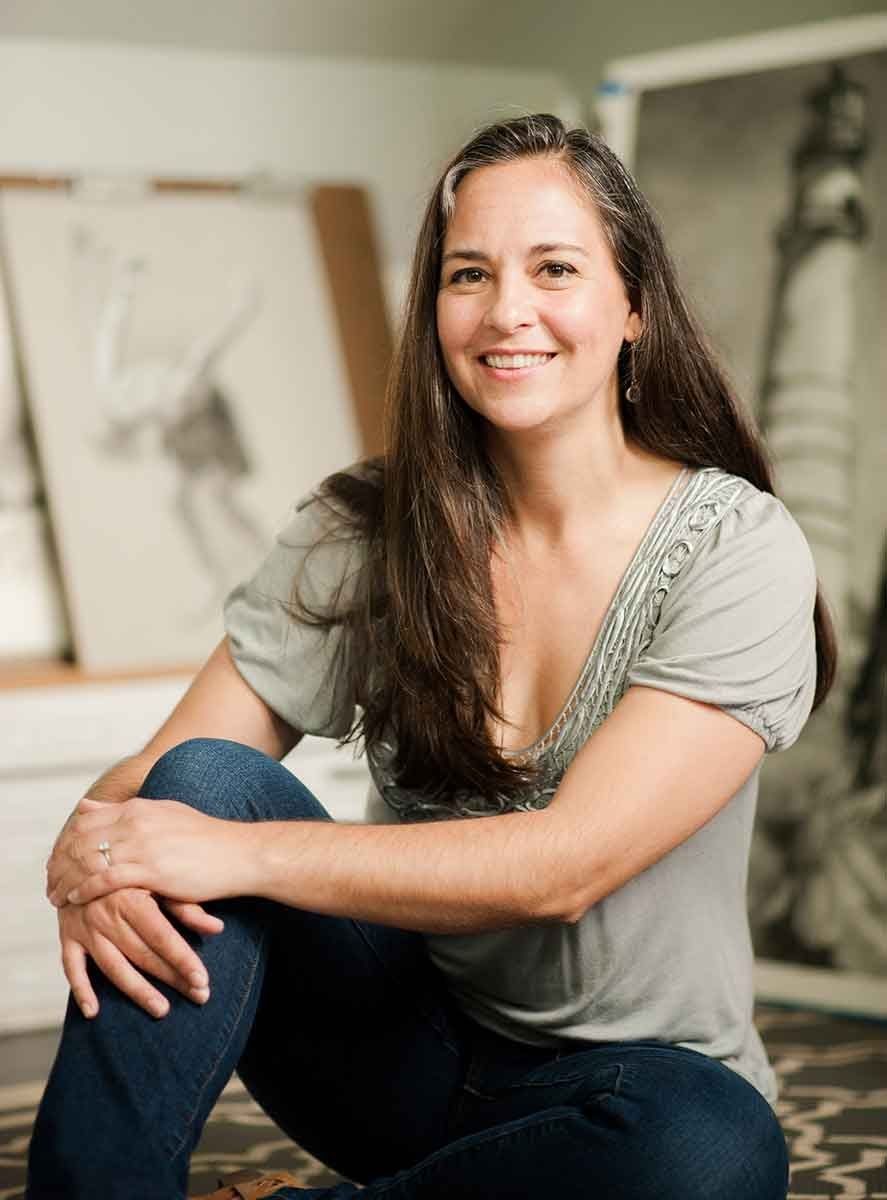 ARTIST STATEMENT
There is a place that can be entered through the act of painting. An internal, unconscious place; where instinct outweighs intellect; where thoughts and images mingle freely. It takes time to warm up to this place. Sometimes we never reach it, but this is where my passion springs from. This is where I find my best work. My paintings follow two subject matters, the human figure and the still life, but rely on one method, observation. Using direct observation, I have developed a painterly approach to representation.
The primary subject matter of my work, the human figure, is a natural one for me. I grew up in a scientific home having both parents as professors at Tufts University School of Medicine. I was constantly surrounded by anatomy books and skeletons and I was often invited to witness dissections of various animals and even cadavers. Although this does not describe a typical childhood experience it gave this growing artist invaluable opportunities. Now, this understanding of the figure which I quietly absorbed as a child is translated into psychologically charged canvases. The still lives that I choose to paint range from dead bird to common object. I've become fascinated with representing the often overlooked and presenting its inherent power and beauty.
Whether I am painting friend, fowl, or common object a main concern is the actual application of paint. I am tantalized by the surface of paintings which show the buildup and break down of marks. This revealed history has as much presence as the subjects themselves. Through this push and pull of paint emerges the representation of the subject. Out of my internal, unconscious place and through intense observation springs my painterly realism.
ALIA ON RUBLEV COLOURS
The high-quality products and information that Natural Pigments provide are invaluable to me as an artist. The forums and articles posted on the site are an incredible, free resource. As a figurative painter, I am enamored with the traditions of the past yet appreciate the advances science has given us. Natural Pigments wonderfully combines knowledge and tradition to offer oil paint that embraces each pigment's specific character. I love painting with the Rublev historic pigments. Lead Tin Yellow has become an indispensable member on my earth based palette. Besides their beautiful pigments, I also enjoy using several of their grounds to prepare my own ACM panels. The Lead Alkyd Ground creates a nice, stable surface on which to paint in a fraction of the time other oil grounds require to cure. Lastly, every serious artist needs to attend one of their Painting Best Practices workshop for the wealth of information.
The colors on my palette (from left to right) are Lead White no.1, Terre Verte, Lead-Tin Yellow, Yellow Ocher, Raw Sienna, Burnt Sienna, Vermillion Extra, Permanent Alizarin (only sometimes), Manganese Violet, Viridian, Raw Umber, Ultramarine Blue, Burnt Umber. Along the bottom are a mixed black of 50/50 Ultramarine and Burnt Umber and then subsequent grays.
ALIA EL-BERMANI PALETTE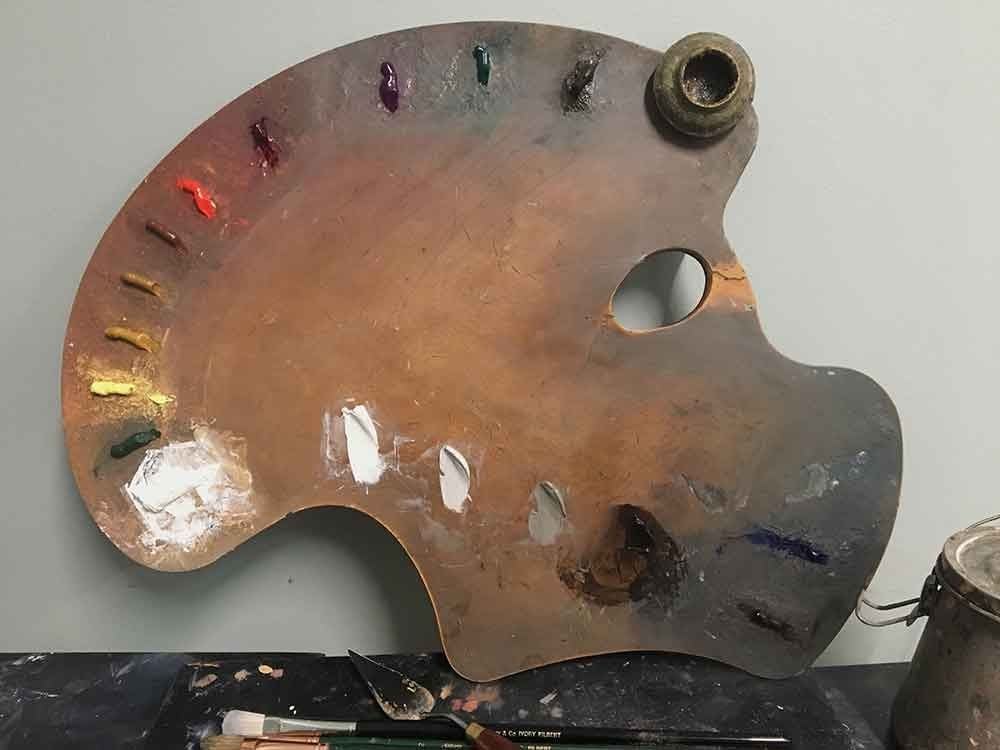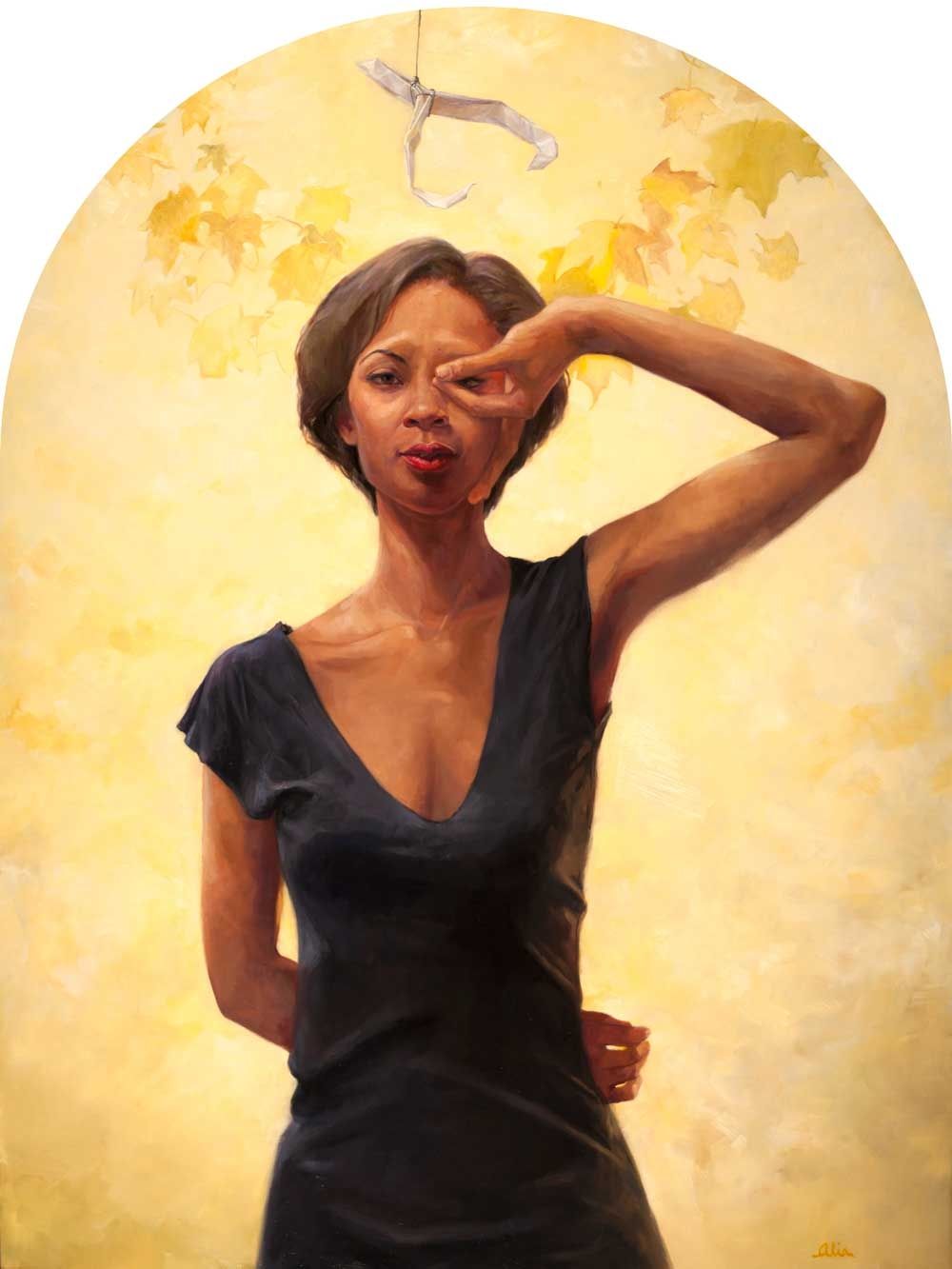 Paper Wishes, oil on wood panel, 48 x 36 inches
Hear Me, oil on aluminum composite material, 40 x 30 inches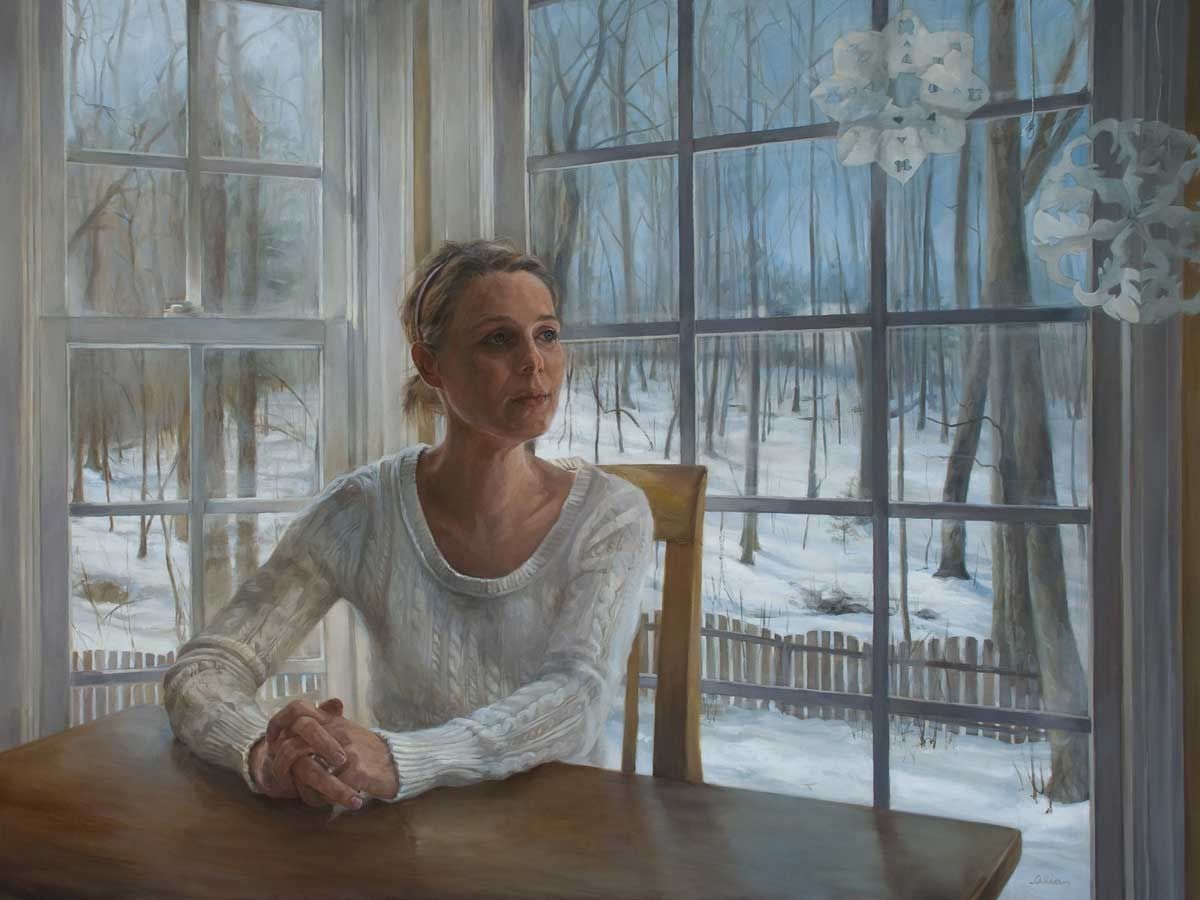 Space Between, oil on panel, 36 x 48 inches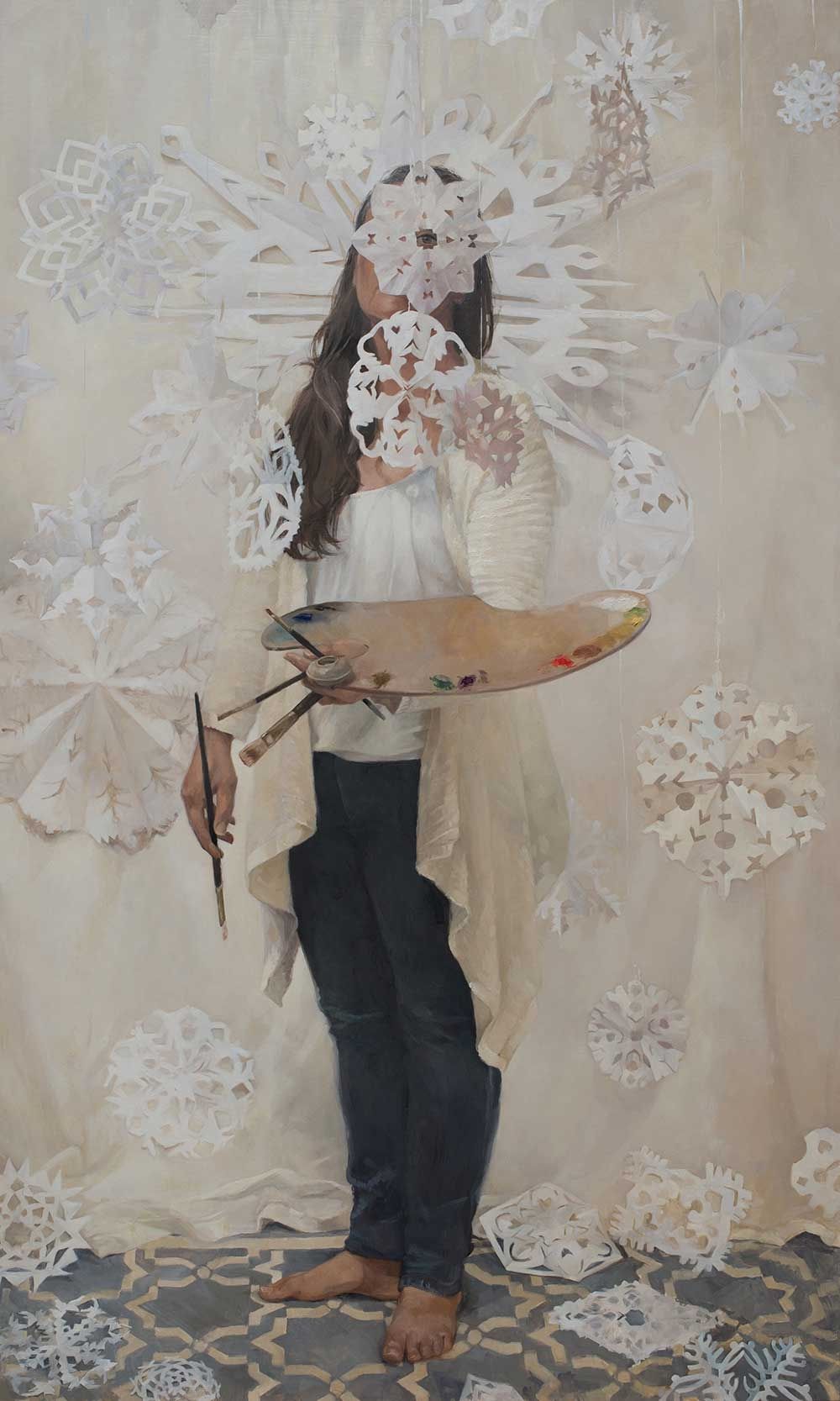 I'm a Special Snowflake, oil on aluminum composite material, 60 x 36 inches