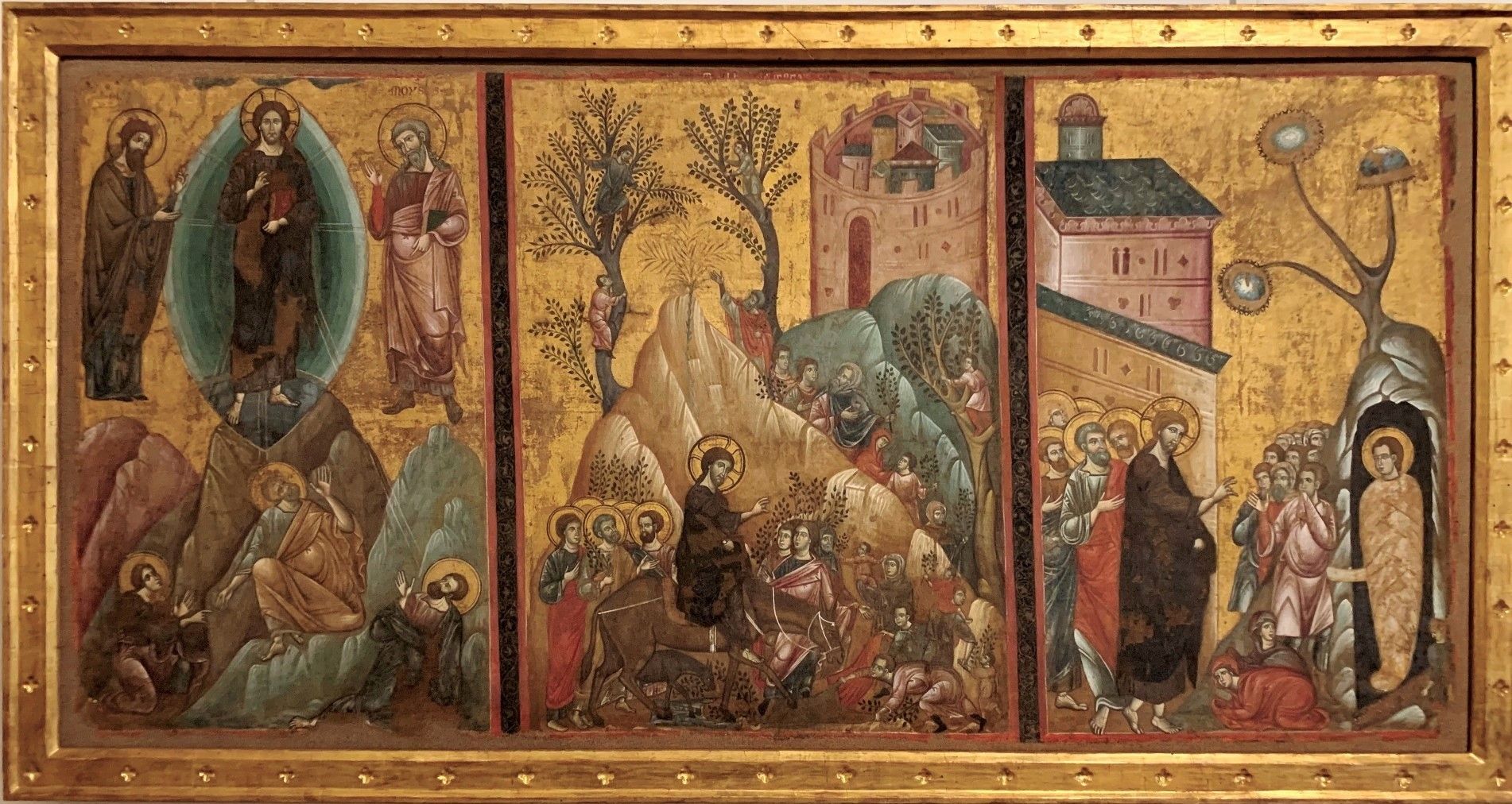 Canvas has become the most common support for oil painting, replacing wooden panels. One of the earliest surviving oil paintings on canvas is the French Virgin and Child with Angels from around 1410 in the Gemäldegalerie, Berlin.1 However, panel painting remained in everyday use until the sixteenth century in Italy and the seventeenth century in Northern Europe. Mantegna and Venetian artists were among those leading the change. Religious differences and guild practice, as well as the availability of supports—good quality wood in Northern Europe and a flourishing flax growing and weaving tradition in Southern Europe—likely influenced the preference and adoption of supports. As materials and paintings were imported and exported and artists traveled to Italy, the influence of Italian techniques filtered north.
Jean Malouel (circa 1370–1415), Madonna and Child, angels and butterflies, 1410, oil on canvas, 107 x 81 cm (42.1 x 31.8 in), Gemäldegalerie
Lippo di Dalmasio (b. circa 1350, Bologna, d. 1410, Bologna), Madonna of Humility, c. 1390, egg tempera on canvas, 110 x 88 cm (43 in x 34.6 in), National Gallery, London
According to Diana Norman, the painting The Transfiguration, the Entry into Jerusalem, and the Raising of Lazarus by Guido de Siena is one of the earliest extant paintings on linen, which was painted as a cover for the front altar.2
Guido de Siena, The Transifguration, the Entry into Jerusalem and the Raising of Lazarus (mid-1270s), tempera on linen, 90 x 186 cm, Siena Pinacoteca Nazionale.
Canvas is typically stretched across a wooden frame called a stretcher and coated with a size layer before it is used to prevent oil paint from coming into direct contact with the canvas fibers, which will eventually cause the canvas to decay. A traditional and flexible ground is composed of lead white (basic lead carbonate), chalk or whiting (calcium carbonate), and linseed oil, applied over an animal skin glue size; a variation using titanium white pigment and chalk is somewhat more brittle and susceptible to cracking.
Early canvas was made of linen, a sturdy, pale brown fabric of considerable strength. Linen is particularly suitable for the use of oil paint. In the early twentieth century, cotton canvas, often referred to as cotton duck, came into use. Linen is composed of higher-quality material and remains popular with many professional artists, especially those who work with oil paint. Cotton duck, which stretches more fully and has an even mechanical weave, offers a more economical alternative. The advent of acrylic paint has significantly increased the popularity and use of cotton duck canvas. Linen and cotton derive from two entirely different plants: flax and cotton.
Weave and Yarn
Canvas is a flexible woven material consisting of a network of natural or artificial fibers referred to as thread or yarn. Yarn is produced by spinning raw fibers of flax, cotton, or other material to produce long strands. Canvas is produced by interlacing warp fibers (running the length of the fabric) and weft fibers (placed along the width of the fabric) in a regular pattern or weaves style. The mechanical interlocking of the fibers maintains the fabric's strength and mechanical integrity, and the fabric's physical properties, surface smoothness, and stability are determined primarily by the weave style.
Plain Weave
In this weave style, each weft fiber passes alternately under and over each warp fiber. The fabric is symmetrical, with good stability, good strength in both directions, and good porosity. However, it is the most difficult of the weaves to drape, and the high fiber crimp imparts relatively low mechanical properties compared with the other weave styles.
Yarn Count and Measurement
The yarn count is a measure of the coarseness or fineness of the fabric. It is measured by counting the number of yarns (or threads) contained in one linear centimeter or inch of textile for either the length (warp) or width (weft) of yarns. Yarn thickness is measured in Number metric (Nm), which is the length of the yarn in meters for one gram of yarn weight. The thicker the yarn, the lower the metric number or Nm. So, an Nm 12 yarn is thicker than a number 40 weight. Using the metric system, all you need to remember is the higher the number, the finer the yarn or thread, the lower the number, the thicker the yarn.
Thread Count or Threads Per Inch (TPI)
Thread count or threads per inch (TPI) is a measure of the coarseness or fineness of fabric. It is measured by counting the number of threads (or yarns) contained in one square inch of fabric or one square centimeter, including both the length (warp) and width (weft) threads. The thread count is the number of threads counted along two sides (up and across) of the square inch, added together. A higher thread count produces a finer cloth, typically used for detail painting as in portraiture, but not necessarily as strong.
Canvas Weight
We provide both the weight, measured in grams per square meter and ounces per square yard, of the unprimed and primed canvas to help you select the suitable canvas for your artwork. It is generally recommended to use 320 g (~10 oz) unprimed linen canvas and 320 to 400 g (10 to 12 oz) cotton canvas for pictures larger than 120 cm (48 inches). Cotton and polyester canvas have strength closer to that of linen.
| | |
| --- | --- |
| Light-weight | 140 to 170 g (4 to 5 oz) |
| Medium-weight | 240 to 270 g (7 to 8 oz) |
| Heavy-weight | 320 to 400 g (10 to 12 oz) |
---
Notes
iThis 107 x 81 cm (42 x 32 inches) canvas was discovered in Munich in the 1980s, and experts said it was probably by Jean Malouel. This painting is probably the earliest surviving oil painting on canvas from France. One of the earliest paintings on canvas is The Madonna of Humility in the National Gallery, London. It was painted in about 1390 by the Italian artist Lippo di Dalmasio (c. 1353?–1410). This 110 x 88.2 cm (39 x 35 inches) painting consisted of egg tempera on canvas and was acquired by the National Gallery in 1866 (Inventory Number NG752).
Diana Norman (2003). Painting in Late Medieval and Renaissance Siena, 1260-1555. Yale University Press, 2003. p. 60.