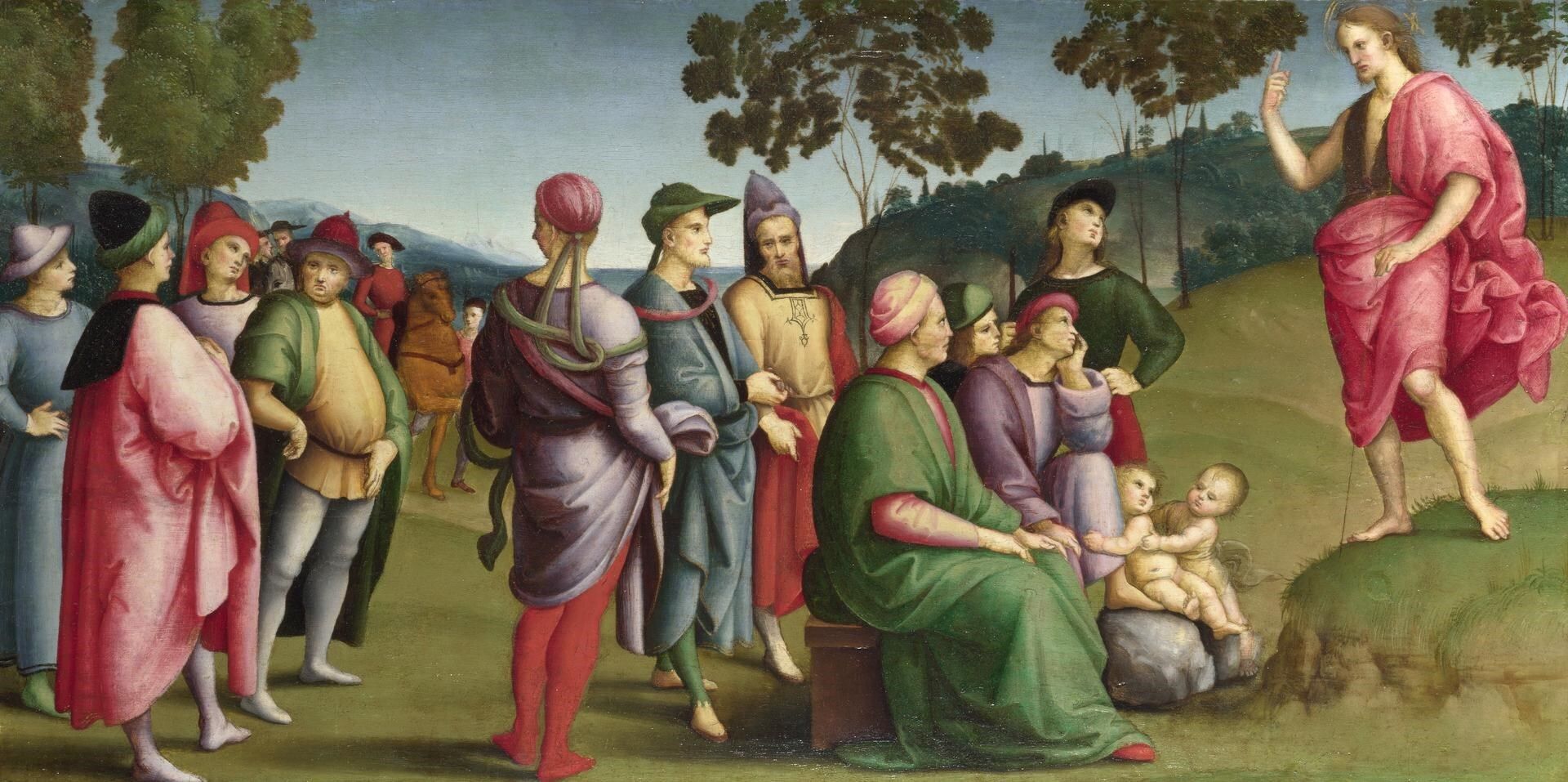 Raffaello Sanzio da Urbino, known as Raphael, was an Italian painter and architect of the High Renaissance. His work is admired worldwide for its form, composition, and visual achievement of the Neoplatonic ideal of the human form.
The Painting Materials of Raphael
Raphael painted much of his early works on poplar wood panels, but in some cases on a much denser fruit wood. For example, Madonna of the Pinks appears to be painted on a panel of cherry wood. More unusual is the portrait of Agnolo and Maddalena Doni painted on limewood. There is also a rare early example of a poplar panel covered with canvas. This processional banner, a double-sided gonfalone, of The Trinity with Saints Sebastian and Roch on one side and The Creation of Eve on the other, is exceptional, but the choice can be explained by its use as a banner carried at religious festivals.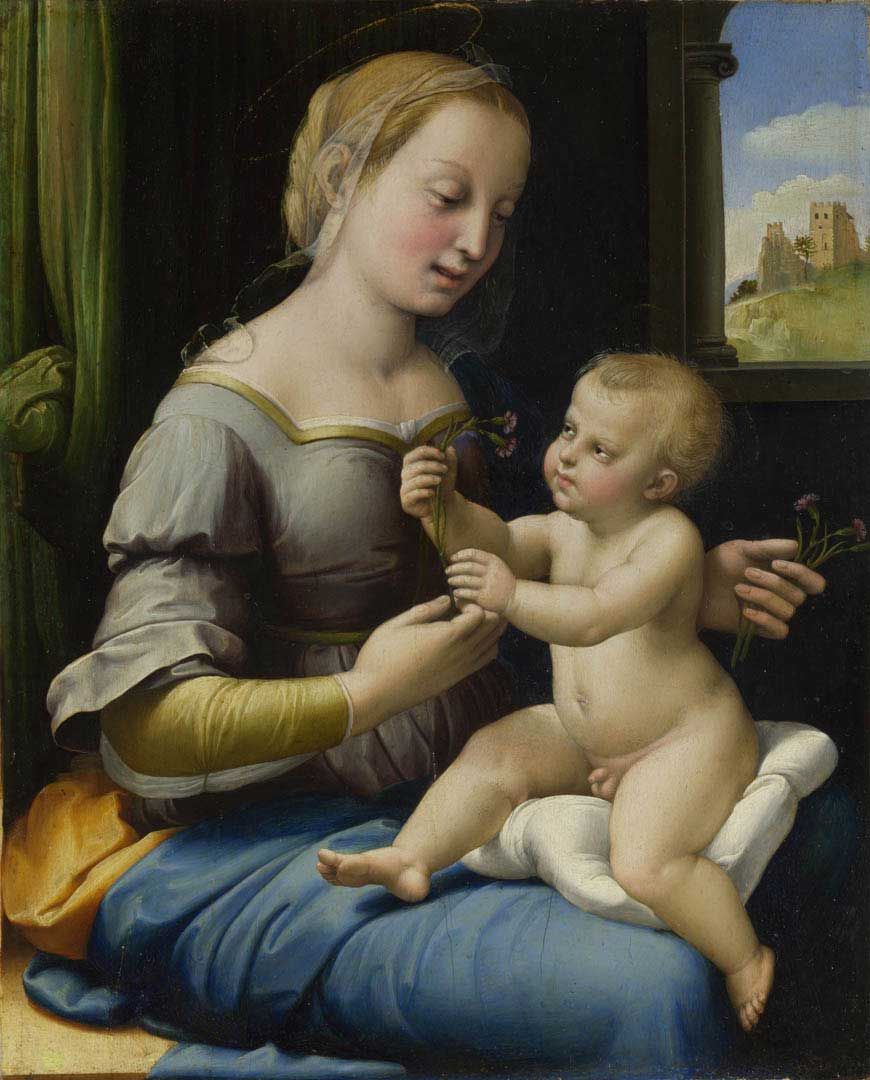 The Madonna of the Pinks ('La Madonna dei Garofani'), National Gallery, London, was made about 1506–7, using oil on yew (Taxus baccata) panel.
---
Even later in his career, Raphael rarely chose canvas as support. the principle exceptions being the Sistine Madonna.
Most of the wood panels were prepared with a glue ground consisting of gypsum (calcium sulfate hemihydrate, gesso, Italian), bound in animal glue. The gesso was covered with a pale imprimatura of a thin, off-white oil-bound layer containing lead white, a small amount of lead-tin yellow, and various amounts of glass particles. It is believed that the glass particles contributed to the siccative qualities of the imprimatura. The composition of this imprimatura has been found on many of his paintings and appears to be typical of Italian artists working in this period.
Raphael predominately used drying oils in his work, mostly consisting of walnut oil but also accompanied by linseed oil. Spectrophotometry analysis has revealed walnut oil and linseed oil in separate passages of paintings, such as Saint Catherine and Mond Crucifixion. In samples analyzed from the Ansidei Madonna, walnut oil and heat-bodied walnut oil were detected. Three samples from the Madonna of the Pinks contained heat-bodied walnut oil. Walnut oil appears to be the preferred binder in this period in Italy, although linseed oil was used. In some cases, these oils were used in separate passages of paintings.
Of course, egg tempera cannot be dismissed as a binder used by Raphael because this it was often employed in the workshop of Pietro Perugino, where Raphael apprenticed.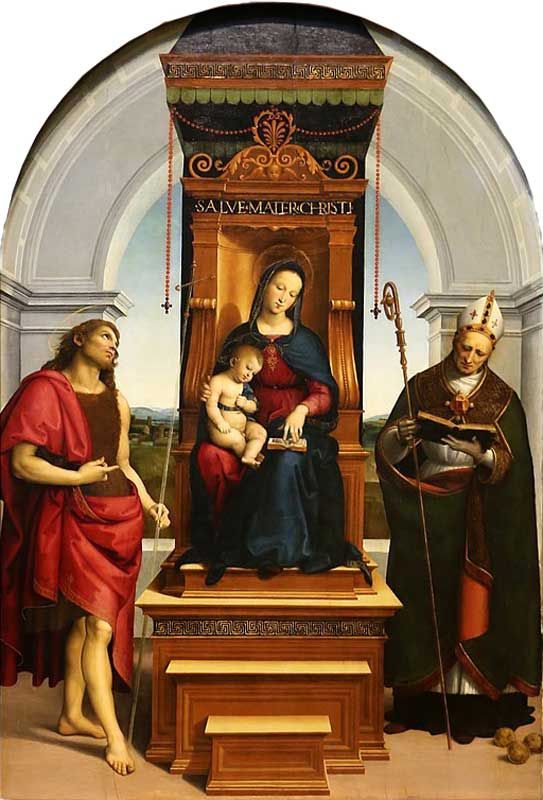 The main panel from the Ansidei Altarpiece, Ansidei Madonna, National Gallery, London, is dated 1505 and inscribed in gold on the hem of the Virgin's mantle.
---
The Palette of Raphael
Raphael used many pigments typically found on paintings of this period. These included the following:
Natural ultramarine (lazurite mineral)

Verdigris (copper acetate)

Yellow ocher (iron oxide)

Lead-tin yellow (lead stannate—Type I)

Carmine lake (carminic acid precipitated on a mineral base)

Vermilion (red mercuric sulfide)

Madder lake

Red ocher (iron oxide)

Brown ocher (iron oxide)
In several of his paintings (Ansidei Madonna) he employed the rare brazilwood lake, powdered gold, and even less known metallic powdered bismuth.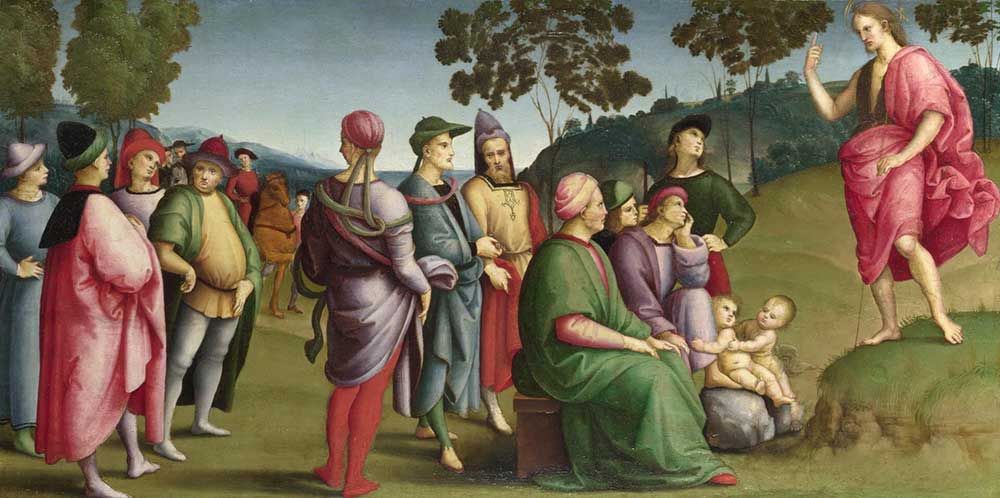 One of the two narrative scenes from the predella of the Ansidei Altarpiece, Saint John the Baptist Preaching, National Gallery, London, is dated 1505 and inscribed in gold on the hem of the Virgin's mantle of the main panel of the altarpiece.
---
Raphael's Use of Glass Powder
In the Mond Crucifixion, Raphael prepared the poplar support with gesso covered by an imprimatura of lead white, a small amount of lead-tin yellow, and powdered glass consisting of manganese-containing soda-lime glass. Considerable amounts of powdered glass were also found in the red glazes of Saint John the Evangelist's cloak. Powdered glass was also added to many other areas of the painting, not just in the red glazes. The use of this type of glass not only acts as a siccative but increases the transparency of the glazes while providing solid particles that do not yellow as does the oil binder.
The use of glass as a siccative in oil painting is consistent with an English documentary source that mentions using glass as a drier. The painter Marshall Smith, in 1692, wrote:
'For your Powder-Glass, take the whitest Glass, beat it very fine in a Morter, and grind it in water to an Impalpable powder; being thoroughly dry, it will dry all Colours without drying Oyle, and not in the least Tinge the purest Colours, as White, Ultramarine etc. and is much us'd in Italy'.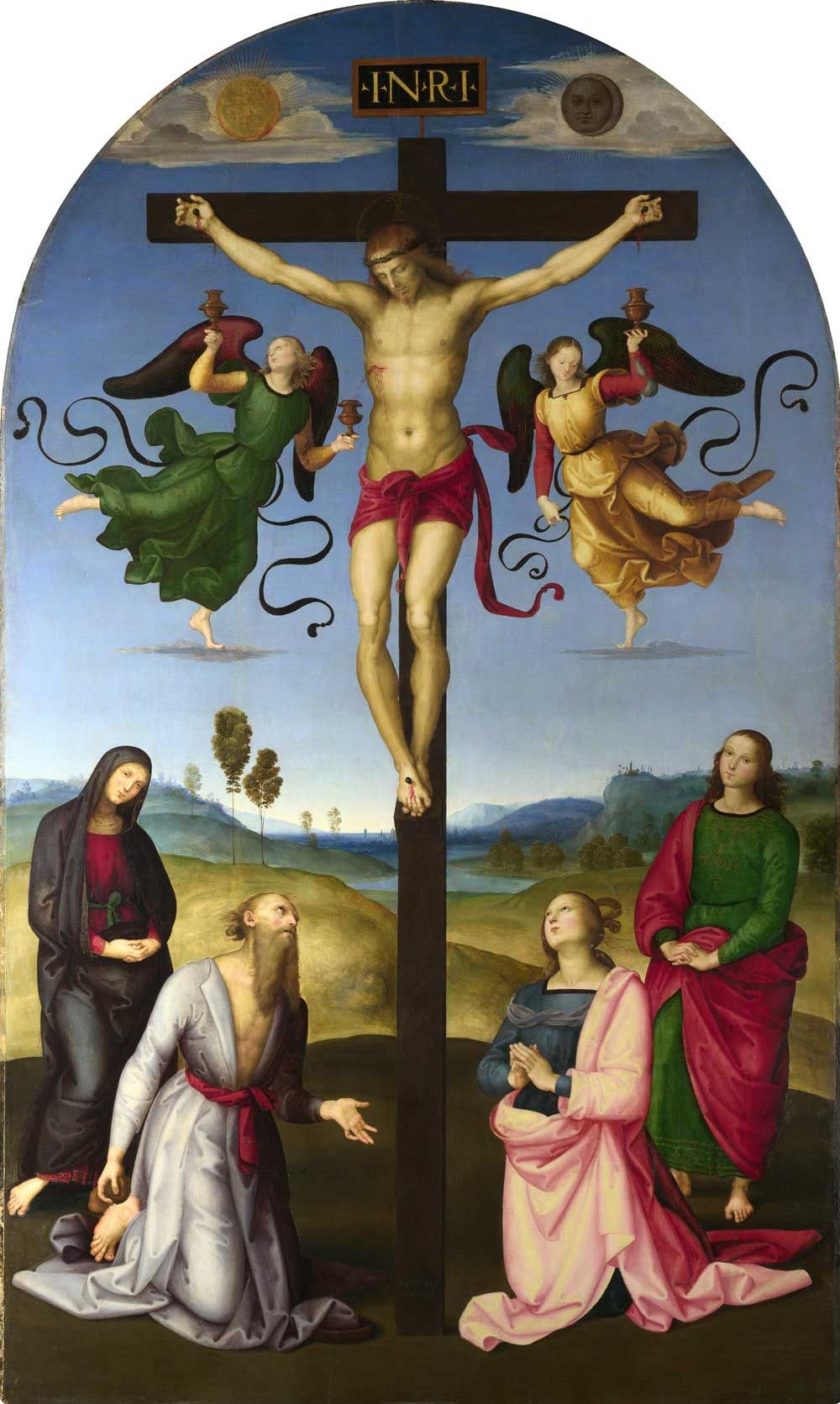 The Mond Crucifixion, National Gallery, London, was painted in oil on a poplar panel about 1502–3.
---
Glass particles have also been found extensively in works by Perugino and in many paintings by Raphael. Recently, it has been found that glass was used extensively in red glazes in early Netherlandish and German paintings. The composition of the glass varies considerably in the paintings from different regions of Europe during this period. Soda lime glass is typically found in Italian paintings, but high-lime glass appears to be more common in paintings executed in Northern Europe.
---
References and Notes
Roy, A., Spring, M., Plazzotta, C. "Raphael's Early Work in the National Gallery: Paintings before Rome". National Gallery Technical Bulletin Vol 25, pp. 4–35.
Spring, Marika. "Raphael's Materials: Some New Discoveries and their Context within Early Sixteenth-Century Painting." Scientific Department of The National Gallery, London
References to the use of powdered glass as a drier in historical documentary sources on painting are discussed, and Marshall Smith is quoted in Kirby Talley M., Portrait Painting in England: Studies in the Technical Literature before 1700, Paul Mellon Centre for Studies in British Art, 1981, pp. 94–97.