Blue Ridge Yellow Ocher Watercolor Paint
Blue Ridge Yellow Ocher is a transparent yellow with good tinting strength, medium grained that makes gold tints.
Rublev Colours Blue Ridge Yellow Ocher is a yellow iron oxide earth pigment from a natural mixture of minerals obtained from deposits in the Blue Ridge Mountains of Virginia. Blue Ridge Yellow Ocher is not a true mineral but a mixture of similar hydrated iron oxide minerals. Blue Ridge Yellow Ocher is mostly made up of the mineral goethite.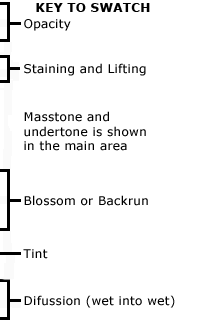 Rublev Colours Blue Ridge Yellow Ocher Watercolor
Note: Colors swatches are shown in mass tone, at top, mixed with an equal amount of water and brushed out toward the bottom. All pictures of color swatches in this web site are only approximations of the actual color of the watercolor paint. We have taken every care to match the color in these pictures on calibrated color monitors to the actual color. However, because of the wide variance in color monitors the results you get may vary.
Color Information
Single Pigment:
Yellow Ochre
Binder:
Gum Arabic
Pigment Information
Color:
Yellow
Colour Index:
Pigment Yellow 43
Chemical Name:
Natural Hydrated Iron Oxide
Chemical Formula:
Fe2O3.OH
Properties
ASTM Lightfastness:
I
Opacity:
Transparent
Tinting Strength:
Low
Staining:
Average
For a detailed explanation of the terms in the table above, please visit Composition and Permanence.
Notes
Note: Some separation of pigment and medium may occur in Rublev Colours Watercolors and is a natural process when no stabilizers are added to paint to prevent this from occurring.
More Information

| | |
| --- | --- |
| SKU | 850-303 |
| Brand | Rublev Colours |
| Vendor | Natural Pigments |
| Processing Time | Usually ships the next business day. |
| Color | Yellow |
| Pigment Type | Inorganic, Earth, Natural |
Hazard Identification
Classification according to EC Regulation 1272/2008: This product is not classified as hazardous according to the CLP/GHS Directive.
Classification according to EC Regulation No. 67/548 or No. 1999/45: The material is not subject to classification according to EC lists. This product does not require classification and labeling as hazardous according to CLP/GHS.
Safety Designation
P280 Wear protective gloves/ clothing/ eye/ face protection.
P281 Use personal protective equipment as required.
P501 Dispose of contents/ container according to regional, national and international regulations.