Gilsonite (Asphaltum) Pigment
Gilsonite, Asphaltum, Bitumen. A transparent brown to black-brown mineral pigment used in tempera, oil and watercolor mediums, obtained from natural deposits in Utah.
A transparent brown to black-brown mineral pigment used in tempera, oil, and watercolor mediums obtained from natural asphaltum deposits in Utah. Gilsonite, or uintahite or asphaltum, is a bitumen-impregnated rock (asphaltite) mainly found in the Uintah Basin of Utah and Colorado, United States. It is a naturally occurring solid hydrocarbon bitumen. Although it occurs in other locations, its large-scale production occurs only in the Uintah Basin.
Our gilsonite, or North American Asphaltum, is a natural, resinous hydrocarbon found in the Uintah Basin in northeastern Utah. This natural asphalt is similar to hard petroleum asphalt and is often called natural asphalt, asphaltite, uintaite, or asphaltum. Gilsonite, in mass, is a shiny, black substance similar in appearance to the mineral obsidian. It is brittle and can be easily crushed into a dark brown powder.
Pigment Names

Alternate Names:
English: asphalt, asphaltite, asphaltum, bitumen, Antwerp brown
Origin and History
The mineral, now known as Gilsonite or North American Asphaltum, was discovered in the early 1860s. Still, it was not until the mid-1880s that Samuel H. Gilson began promoting it as a waterproof coating for various products and a unique varnish. Gilson's promotion of the ore was so successful that, in 1888, he and a partner formed the first company to mine and market gilsonite on a commercial scale.
GIlsonite is a type of asphalt or asphaltum, also known as bitumen, which is a sticky, black, and highly viscous liquid or semi-solid form of petroleum. The terms asphalt and bitumen are often used interchangeably to mean both natural and manufactured forms of the substance. In American English, asphalt is the refined residue from the distillation process of selected crude oils. Outside the United States, the product is often called bitumen. Geological terminology often prefers the term bitumen.
Source
Gilsonite is found below the earth's surface in vertical veins or seams that are generally between two and six feet wide but can be as wide as 28 feet. The veins are nearly parallel to each other and are oriented in a northwest-to-southeast direction. They extend many miles in length and as deep as 1500 feet. The vein will appear on the surface as a thin outcropping and gradually widen as it goes deeper. Due to the narrow mining face, gilsonite is mined today, much like 50 or 100 years ago. The primary difference is that modern miners use pneumatic chipping hammers and mechanical hoists.
Tinting Strength
Gilsonite is a transparent color; its transparency depends upon how it is made into paint. It is typically used in glazes and was prized by artists in past centuries for its ability to add warmth and depth in shadows.
Pigment Characteristics
Processing of Gilsonite now removes most of the inert contaminants, and newer, more powerful solvents make the higher softening point grades more attractive to the user. Today, gilsonite is graded by softening point (a rough measure of solubility) and particle size. All grades carry a degree of quality far superior to those first small amounts of crude gilsonite marketed in the 1880s. Our grade of gilsonite is finely powdered and has a high softening point, 130–204 °C (265–400 °F).
Permanence and Compatibility
Gilsonite is compatible with vegetable oils (linseed, soya, etc.), microcrystalline and paraffin waxes, aromatic and aliphatic solvents, and rosins.
Gilsonite is soluble in aliphatic, aromatic, and chlorinated hydrocarbon solvents. It has limited solubility in most ketones but is soluble in mixed aromatic solvents that contain a ketone component. Gilsonite is not soluble in water, alcohol, or acetone.
Toxicity
Gilsonite in its unaltered state is non-carcinogenic, non-mutagenic, and non-toxic by recognized test procedures, which include the modified Ames assay test, chronic feeding studies for the National Toxicology Program (NTP), and NIOSH protocols.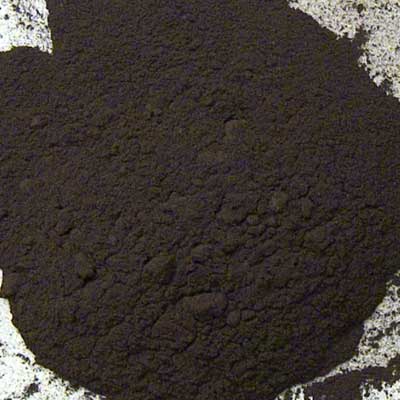 Pigment: Rublev Colours Gilsonite
Pigment Information

Color:
Brown Black
Colour Index:
Natural Black 6 (NBk 6)
Chemical Name:
Bitumen
Chemical Formula:
C28H16Cl8O8
CAS Number:
12002-43-6
ASTM Lightfastness Rating
Acrylic:
Not Tested
Oil:
Not Tested
Watercolor:
Not Tested
Properties
Particle Size:
>65% 150 Mesh (89 microns)
Specific Gravity (@25° C):
1.03–1.10
Bulk Density:
40 lbs./ft3
Hardness (Moh):
2
Refractive Index:
1.59–1.64
Fusing (Softening) Point (°C):
161–230
Health and Safety
WARNING! Fire Hazard: Gilsonite is combustible. A skin, eye, and mucous membrane irritant. An allergen. It has been known to cause photosensitization of the skin. Flammable when exposed to heat or open flame. To fight fire, use water, foam, dry chemicals, and CO2. When heated to decomposition, it emits acrid smoke and irritating fumes.
More Information

| | |
| --- | --- |
| SKU | 462-10 |
| Brand | Rublev Colours |
| Vendor | Natural Pigments |
| Processing Time | Usually ships the next business day. |
| Color | Brown |
| Pigment Type | Organic, Historical, Natural |