Malachite Watercolor Paint
Malachite is basic copper carbonate mineral, described as bright bluish green or sometimes as pale green. Our malachite is from mines in Nizhniy Tagil, Ural Mountains, Russia in a fine grade of bright green hue.
Rublev Colours Malachite the mineral is basic carbonate of copper, usually described as a bright greenish blue or sometimes as a pale green. Our malachite is obtained from mines in Nizhniy Tagil, Ural Mountains, Russia.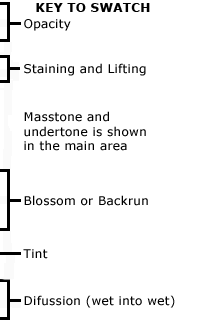 Rublev Colours Malachite Watercolor
Note: Colors swatches are shown in mass tone, at top, mixed with an equal amount of water and brushed out toward the bottom. All pictures of color swatches in this web site are only approximations of the actual color of the watercolor paint. We have taken every care to match the color in these pictures on calibrated color monitors to the actual color. However, because of the wide variance in color monitors the results you get may vary.
Color Information
Single Pigment:
Natural Malachite
Binder:
Gum Arabic
Pigment Information
Color:
Green
Colour Index:
Pigment Green 39 (77492)
Chemical Name:
Copper Carbonate Hydroxide
Chemical Formula:
Cu2(CO3)(OH)2
Properties
ASTM Lightfastness:
I
Opacity:
Semi-Transparent
Tinting Strength:
High
Staining:
Low
For a detailed explanation of the terms in the table above, please visit Composition and Permanence.
Notes
Note: Some separation of pigment and medium may occur in Rublev Colours Watercolors and is a natural process when no stabilizers are added to paint to prevent this from occurring.
More Information

| | |
| --- | --- |
| SKU | 850-204 |
| Brand | Rublev Colours |
| Vendor | Natural Pigments |
| Processing Time | Usually ships the next business day. |
| Color | Green |
| Pigment Type | Inorganic, Historical, Natural |