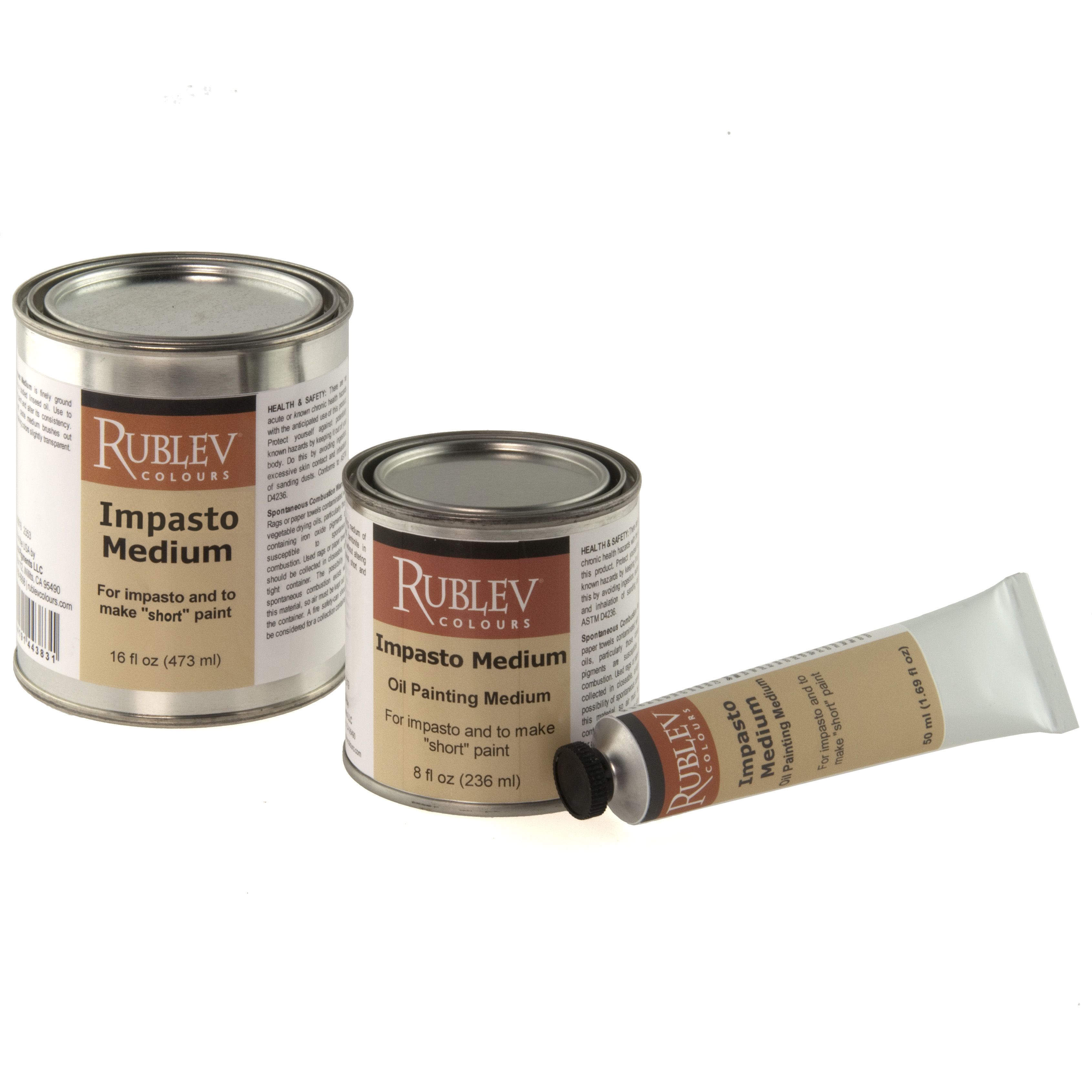 The simplest way to create an impasto surface is to apply large amounts of paint, usually with a brush or palette knife. Commercial oil colors have a heavy consistency, which can be achieved by working directly from the tube and applying the colors in thick layers. Opacity and built-up texture are usually interrelated, with much of the thickest impasto consisting of solid and opaque pigments, such as lead white or titanium white. Passages of thickly applied paint can also be translucent, so extender pigments are chosen that supply both bulk and transparency.
---
Extender pigments, often called fillers, are powders that appear white or cream-colored when mixed with oil. They are virtually transparent, making them suitable as a modifying agent for glazing paints containing translucent colored pigments. Chalk, barite, kaolin (clay), talc, silica (quartz), and bentonite are extender pigments that add body and transparency to glaze-like paints without causing a significant color change.
The density of extender pigments affects the handling properties when added to oil paint. Extender pigments have a wide range of densities. Chalk has a relative density of 2.7, while barite has a density of 4.4. (Relative density, or specific gravity, is the ratio of a substance's density [mass of a unit volume] to the density of a given reference material, such as water.) The low density of chalk provides impastos in oil mediums that hold a short peak and stand upon drying. Oil pastes containing high-density pigments like barite also hold their shapes but tend to be 'long' or 'ropy.'
The oil type affects the paint's consistency and the form and texture of impastos. Paint made with bodied oils, especially those formed by heat polymerization, flows out and levels, so brushstrokes melt after application. Unmodified oil forms paint that is buttery and short; hence brushstrokes hold their shape upon drying. Different textures can be mixed in bodied and unmodified oils in different proportions.
As technical director of Natural Pigments, I spent many hours examining the impastos of such old masters as Rembrandt and Velázquez to understand the various textures they employed in their paintings. The advantage they had over artists today is that they handmade their paint, so they could arrive at an endless variety of effects by tailoring the ingredients in the paint to provide the proper consistency. Not allowing this to become a disadvantage today, I sought to develop oil paint with a wide range of behavior and painting amendments that artists today can use to change this behavior. Rublev Colours offers three paste and putty mediums for impastos: Velázquez Medium, Impasto Medium, and Impasto Putty.
---
Velázquez Medium is an oil painting medium of finely ground calcite in heat-bodied linseed oil. It extends oil paint and alters its consistency, making oil colors' long'* for finer detail and impastos. This flowing paste makes colors slightly transparent, allowing you to build thick, impasted paint applications. When added to oil paint, it does not significantly change the color so it can create thick-colored glazes. While it reduces the opacity of pigments, such as lead white, it allows thick textures to be built up that flow but hold their shape upon drying.
---
Impasto Medium is a paste medium of finely ground calcite, barite, and bentonite in linseed oil. It effectively extends oil colors to create 'short' and buttery impastos. Stiffer and shorter than Velázquez Medium, this paste medium makes colors slightly transparent while allowing you to build thick, impasted paint applications. It also allows you to form thick glazes and opaque impastos that handle with the brush and palette knife equally well. The short buttery paste holds peaks and is ideal for short brushstrokes and knife marks.
---
Impasto Putty is an oil painting amendment of finely ground calcite, barite, and bentonite in linseed oil to form a stiff, malleable putty. Add it to oil paint to create the thickest and stiffest impastos. Impasto Putty has qualities similar to Impasto Medium but is putty-like and can be kneaded in hand like clay. Oil paint mixed with Impasto Putty creates impastos with sculptural qualities.
---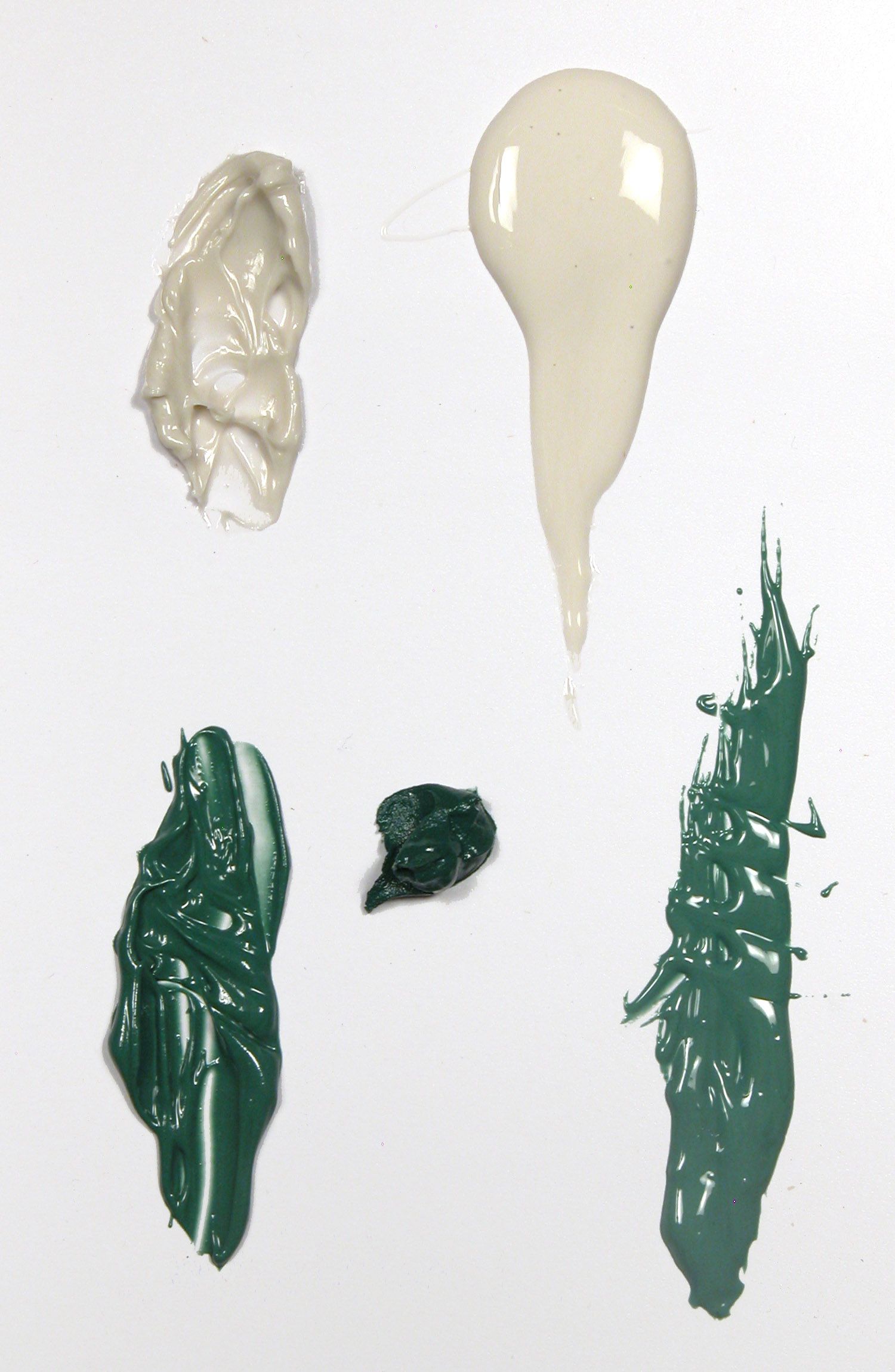 Comparing Rublev Colours paste mediums shows the difference in consistency and subsequent handling properties when mixed with oil paint. The pile (top right) of Velázquez Medium shows the long consistency of this pure calcite paste and how it induces this property when mixed with paints (bottom right). At the top left is Impasto Medium and the shorter paste it builds (bottom left) when mixed with green earth oil paint (center). Impasto Putty (not pictured) is a stiff version of Impasto Medium that forms short, stiff paint for the sharply textured impastos.
All Rublev Colours paste and putty mediums do not contain stearates, waxes, solvents, driers, or natural or synthetic resins, so they are safe to add to oil paint without worrying about cracking or delaminating. The paste mediums can be added in nearly any proportion to oil paint.
Impasto Painting in Alpine by Julio Reyes
Julio Reyes, a California figurative painter, describes his experience using Rublev Colours Velázquez Medium in his painting Alpine:
Detail of Alpine by Julio Reyes
"This painting truly is a testament to the range of effects made possible by the use of Velázquez Medium. If you look carefully you can see passages of texture in the impasto areas of the portrait and the scarf that are "long" and "elastic" in appearance. Velázquez Medium imparts a certain degree of saturation and luminosity to tubed paint colors, without the worry of darkening or weakening the paint layers. I used it on virtually every inch of this painting."
---
About Julio Reyes
Julio Reyes was born in 1982 in Hollywood, California. Having been raised in the urban sprawls of Los Angeles, the electric towers, platinum light, and expansive horizons of his childhood have significantly shaped and defined his aesthetic. Reyes's work often depicts moments of tender isolation, and behind his pictures, there is always a backstory layered with unique content. However, he insists that his compositions are meant to evoke rather than explain. He holds the viewer's perspective and imagination in high regard, welcoming whatever meanings and associations they may bring to his work.
Reyes attended the Laguna College of Art and Design, and in 2004 he earned a BFA in painting/drawing with a minor in sculpture. There he learned about art history and aesthetics, as well a classical approach to the materials and techniques of both painting and sculpture. It was also there that he met and fell in love with his future wife and artist, Candice Bohannon. He now lives and works with his wife and two dogs in a secluded Northern California studio and splits their time between Southern and Northern California.
In 2011, at age 29, Julio had his debut solo exhibition at Arcadia Fine Arts in New York. The Portrait Society of America awarded him the 2012 William F. Draper Grand Prize. He was included as one of American Artist Magazine's "25 Artist of Tomorrow" in their "75 Greatest Artists of All Time" issue. Julio was featured in the 2012 Volume III Fall American Painting Video Magazine issue. He was the Best in Show winner of the 2009/2010 Art Renewal Salon Competition and received multiple awards in their 2011/2012 Salon. He is working towards his second solo show in New York, at Arcadia Fine Arts, in November of 2014.
To view more of Julio's work, visit his website at www.JulioReyes.com.
---
Notes
* Long refers to the consistency of paint that displays tall peaks when a palette knife is pressed to its surface and lifted. Long paint is also described as 'ropy' and refers to a stringy quality, like honey. Paint that behaves in this way is said to have long rheology. Short rheology refers to paint with a more buttery consistency, which is typical of most commercial oil paint. Rheology studies how substances flow, such as liquids and soft solids, that flow rather than deform elastically.